40 Different Types of Midi Dresses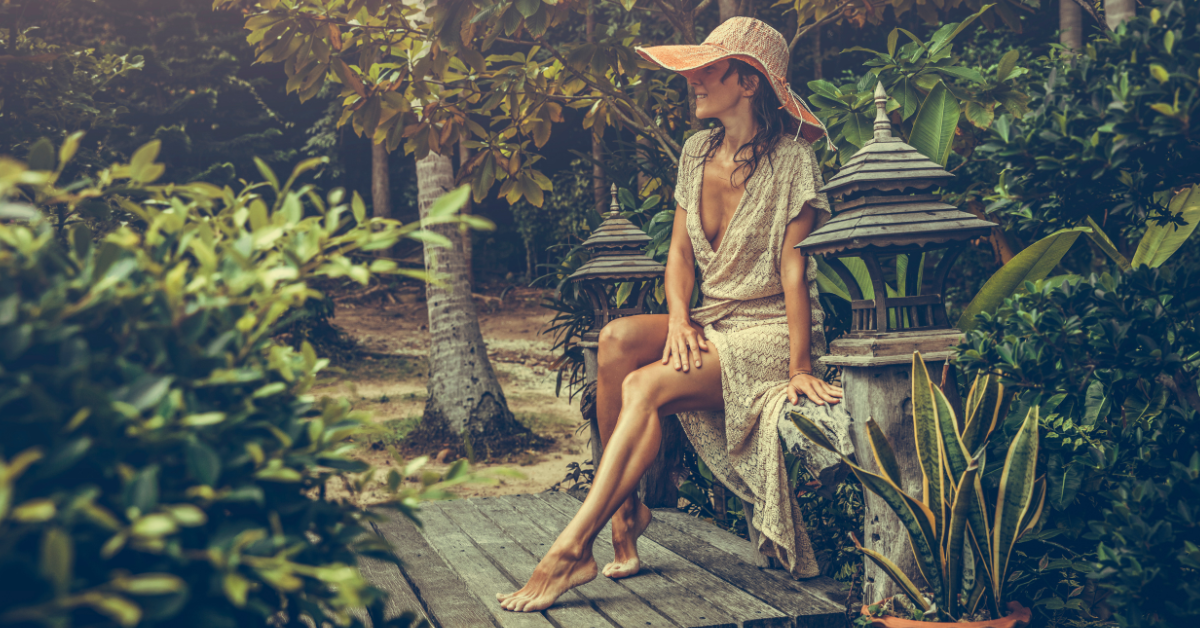 Midi dresses are arguably the most versatile outfits for the modern wardrobe, with both a smart and casual look. With nostalgic styles and contemporary cuts, midi dresses are the perfect offering to make you look your best for any event.
There are many different types of midi dresses available on the market, and each has its own unique features.
In this blog post, we will discuss some of the most popular kinds of midi dresses and their key features. Stay tuned!
40 Different Kinds of Midi Dresses
Finding the perfect midi dress can be difficult for anyone with endless options online to choose from.
To give you a helping hand, we've made a list of different types of midi dresses that are trending this season.
1 - Animal Printed Midi Dress
An animal-printed midi dress resembles the pattern of the skin and fur of an animal such as a leopard, cheetah, zebra, tiger, snake, or ocelot. These types of midi dresses end halfway between the knee and ankle just where the hemline ends.
2 - Asymmetrical Midi Dress
An asymmetrical midi dress has a slanted hemline or neckline, with one shoulder bodice cut longer than the other. The vertical slanting cuts of the asymmetrical midi dress give it an elongating effect and make you look much more flattering.
3 - Bardot Midi dress
A Victorian-era-inspired Bardot midi dress has off-the-shoulder look that leaves the shoulders uncovered and stays around the upper body without shoulder straps or any other visible support. Our Athena Pink Boho Midi Dress in Bardot style is designed to make you feel classy and elegant with a luxurious appeal.
4 - Bodycon Midi dress
A bodycon midi dress conforms to the outline of the body, to show off a woman's curve. These kinds of midi dresses are characterized by their stretch and figure-hugging fabric. Our Paula Brown Bodycon Dress is edgy, stylish, and comfortable to make you look as confident as you are.
5 - Camisole Midi Dress
A camisole midi dress is a wardrobe staple that is sleeveless. This midi dress style is comfortable and breathable, making it a perfect choice for this summer season. Elegantly styled camisole midi dress can be worn on formal data nights or time out with friends.
6 - Casual Midi Dress
A casual midi dress is an outfit suited for everyday wear. A fashion-forward casual midi dress designed with a refreshing look that defines freedom, and embraces individuality. Our best seller Nora Casual Midi Dress is perfect for spontaneous plans, and relaxed occasions emphasizing comfort and class.
7 - Cocktail Midi Dress
A cocktail midi dress is a blend of formal and casual wear that is knee length and comes with different necklines and hem shapes. These types of dresses are a good balance of elegance and comfort - party-perfect outfits for the summer season.
8 - Crochet Midi Dress
A crochet midi dress is made from interlock loops of colorful yarn, thread, and strands. Our hand-crafted Boho Crochet Midi Dress comes with a dual strap, a criss-cross back, and V-neckline to make you look good effortlessly. Bringing the fashion elements of style and comfort, crochet midi dresses are durable and sturdy.
10 - Cut-Out Midi Dress
The cut-out midi dresses give a glamorous look with a cut that pops out at the waist, near the belly. Our most popular Orange Cut Out Midi Dress has a deep neckline to highlight your curves.
11 - Denim Midi Dress
A denim midi dress is made from cotton cloth, and durable twill-woven fabric usually in blue colour. The denim midi dress style is the perfect balance between a relaxed and professional look. During summers, these kinds of midi dresses give a new perspective to your fashion statement.
12 - Floral Midi Dress
When it comes to easy, breezy summer style, it doesn't get much better than a floral midi dress. Our Hailey Floral Sexy Midi Dress is inspired by the botanical trend and features stunning floral prints and embellishments.
13 - Fringe Midi Dress
A fringe midi dress has decorative fashion embellishment, giving an edgy look to the outfit. Our free-spirited Fringe Boho White Dress has decorative fringes attached to it. Thread-like details accentuate the sleeves and hems of the midi dress, with embroidered tassels and v-neckline for a sexy and casual look.
14 - Frill Hem Midi Dress
A frill hem midi dress has pleated and gathered fabric edging. These kinds of midi dresses can have simple, decorative, or embellished frill hem at the bottom of the outfit. Frills give a fancy and luxurious look to the midi dress.
15 - Gingham Midi Dress
A gingham midi dress has stripped or check patterns of two different color combinations. Stylish and striking gingham midi dresses are made from blended cotton fabric with dyed colors.
16 - High Low Midi Dress
A high low midi dress can have a shorter hem at the front and a longer hem at the back, and vice versa. This type of dress ends in between the knee and ankle with a shape that resembles ball gowns.
17 - Kimono Midi Dress
A kimono midi dress is a loose-fit outfit with a robe and wide sleeves, like a gown tied with a sash. These types of midi dresses have squared sleeves with a rectangular body that reaches down to the calves.
18 - Leather Midi Dress
A leather midi dress is incredibly comfortable, made with durable material such as faux leather. These types of leather midi dresses have gained a permanent spot in women's fashion wear due to their appeal and rugged look.
19 - Lace Midi Dress
A Lace Midi Dress is the perfect choice for a romantic night out or a special occasion. The delicate lace fabric flatters your figure and the midi length is both sexy and sophisticated.  Our Pink Boho Midi Dress has delicate lace on the front with an intricate and openwork pattern.
20 - Layered Midi Dress
A layered midi dress has several pieces of clothing stitched on top of one another to give your attire the perfect lift. Our Cute Boho Midi Dress has a series of layers that create a range of different hemlines as it comes down to the knees.
21 - Long Sleeve Midi Dress
A long sleeve midi dress has sleeves extending from shoulder to wrist. Long Sleeve Midi Dress at our online store is a vintage-inspired, V-neck, blousy bodice with a cleavage exposing cut and long sleeves.
22 - Off-the-Shoulder Midi Dress
An off-the-shoulder midi boho dress does not cover the shoulders. The sleeves start in line with the neckline giving a flattering look. Off-the-shoulder boho midi dresses are simple and elegant.
23 - Open Back Midi Dress
An open-back midi dress also known as the backless dress is designed to expose the back of the wearer. The back can be partially or fully exposed, depending on the wearer's preference and style.
24 - One Shoulder Midi Dress
One-shoulder midi dresses are a strap sleeve or long sleeve outfit that covers only one shoulder and leaves the other shoulder uncovered. These are made to highlight your shoulder, forming an asymmetrical look that attracts attention for all the right reasons.
25 - Pinafore Midi Dress
A pinafore midi dress is a collarless and sleeveless outfit with buttons on the back. These types of midi dresses have a low neck giving them a slightly formal look and a dungaree shape at the top. Pinafore midi dresses give a clean look and worn by confident women.
26 - Puff Sleeve Midi Dress
A puff sleeve midi dress has fabric gathered at the shoulders and caught into a cuff to create a puffy effect. Our Amaya Cute Boho Midi Dress is a lightweight puff-sleeved midi dress that is the best outfit to unwind in the summers.
27 - Qipao Midi Dress
A qipao midi dress is a retro-styled Chinese-inspired style that has short sleeves and side slits. It has a mandarin collar that is made from a single piece of clothing. Qipao has a high neck and straight cut, with a delicate and intricate look.
28 - Ruffled Midi Dress
A ruffled midi dress has a styled neckline and hem with an overlay of fabric strips that are pleated together to create a ruffled effect. Our new-in Ariella Long Sleeve Boho Midi Dress gives a pretty and classy look for the summer outings.
29 - Scoop Neck Midi Dress
Scoop neck midi dress has a deep curve with a wide neckline that usually comes down just above your bust. A scoop neck dress has an elegant neckline that shows off the collarbone making you look sexy and sophisticated.
30 - Sheath Midi Dress
A sheath midi dress is fitted, straight, and nipped at the waistline. This type of midi dress doesn't have a visible seam and sits just above the knee. These are perfect for a formal meeting or evening party, putting your gorgeous curves in the spotlight.
31 - Shift Midi Dress
A shift midi dress has a simple boxy appeal to the outfit, with usually short sleeves that hangs from the shoulders. These kinds of midi dresses are not figure-hugging like bodycon dresses.
32 - Silk Midi Dress
A silk midi dress is made from fibroin that adds shine and softness to the outfit. Different types of midi dresses are made from silk for superior luxurious appeal and glamour. Silk midi dresses are dreamy, ethereal, and show-stoppers.
33 - Square Neck Midi Dress
A square neck midi dress has a neckline cut in a square shape creating a flattering look. This midi dress style creates a lean look that shows off the collarbone without revealing too much skin.
34 - Strapless Midi Dress
A strapless midi dress wraps around the upper body, without any straps or visible support. These kinds of midi dresses show bare shoulders and highlights for the neck and area above the bust. It is a perfect go-to outfit for summer outings.
35 - Sweetheart Midi Dress
A sweetheart midi dress has a neckline that resembles the heart shape. This dress has a high back and low front. As it accentuates the décolletage, it'll help you achieve a sexy look.
36 - Swirl Midi Dress
A swirl midi dress has a printed curving and twisting line, shape, or form on the outfit. These types of swirl patterned midi dresses give a sensuous and aesthetically pleasing look that makes the outfit unique and eye-catching.
37 - Tie and Dye Midi Dress
A tie and dye midi dress is crafted through a hand-made dyeing technique through a process of folding, twisting, pleating, and binding the fabric with strings and rubbers. Nadia Printed Midi Dress in tie and dye available at our online store is perfect to achieve a laid-back summer look.
38 - Tutu Midi Dress
A tutu midi dress is a ballerina-inspired piece of clothing that consists of layering under the flare of the frock, attached to a sleek fitted bodice. These types of midi dresses are made with tulle and net.
40 - V-neck Midi Dress
A V-neck midi dress has a V-shaped neckline at the front, boasting an intricate look. V-neck midi dresses are perfect for parties, gatherings, and casual events.
41 - White Midi Dress
A white midi dress is the perfect choice for a summer day. Whether you're headed to the beach or a picnic, this style will keep you cool and stylish. Our best seller Josie White Boho Midi Dress is crafted to make you look divine. It falls just below the knee, giving you modest coverage.
42 - Yoke Midi Dress
A yoke-style midi dress is shaped in a pattern that forms fitting around the neck and shoulders to support the loose fabric, such as the gathered body of a dress. This midi dress style has a yoke just under the bust above the waist, flowing down and pointing towards the hemline.
Midi Dresses – taking Over Your Summer Wardrobe!
Slay the world with the best midi dresses this summer! Carry the artful iterations and bolster your confidence with the fresh and smart midi dresses uniquely crafted to suit your needs.
Brighten up your midi dress collection with our recommended outfits that include Bardot, casual, and open-back midi dresses. These versatile and elegant midi dresses reflect different hues of summer and styles that fit in the modern fashion world. An absolute stunner, Bardot midi dresses are known as the fashion fab to make you look chic and gorgeous. Casual midi dresses are the best gateways to summer parties, evening outings, and even a date night.
Midi dresses are a forever ally and the perfect addition to your wardrobe. Comfortable, chic, and modern, our exclusive midi dresses will always be your go-to choice during this season.
Most importantly, embrace your curves, and love yourself!