How To Dress Boho in Spring? Here Are 16 Easy Ways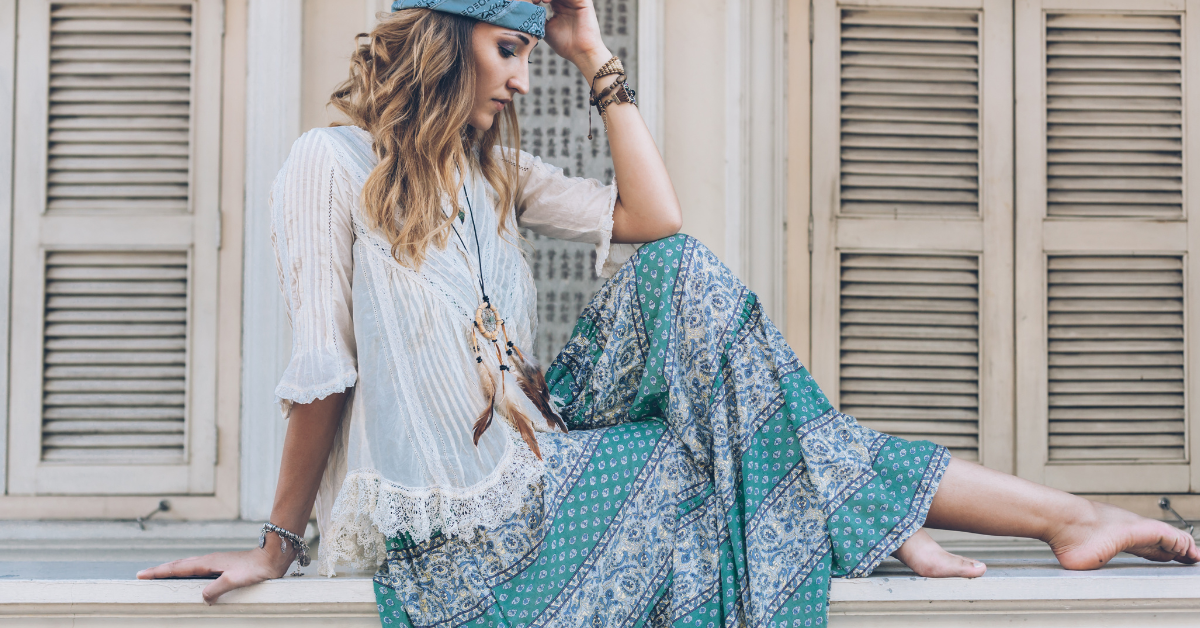 Whether you're looking for ideas on how to wear boho style in spring or just adding a bohemian touch to your capsule wardrobe, we've got you effortless ways to slay boho this season.
With fresh taken-on silhouettes, patterns, and textures, bohemian fashion is back this spring season. Now it's time to work out how to style your Boho-chic spring outfits for an edgy and trendy look.
With feminine details, intricate patterns, and earthy tones, we all love the quintessentially sexy look of a boho spring-style outfit.
So without wasting any more time, let's get started with our quick styling guide for all you fashion goddesses out there.
16 Ways to Wear Bohemian Style in Spring?
Join us as we explore the boho trend in spring. Whether you're looking for a modern twist or want to go classic, our blog has everything!
1 - Add a Pop of Colour with Blue Boho Dress
For this spring season, wear a dreamy blue bohemian dress for a playful mix of cute and sophisticated styles. Wear our springtime Blue Boho Dress for the perfect bohemian vibe all spring long. For a refreshing look, pair it with chunky black platform sandals with cross straps.
A beautiful pair of freshwater pearl earrings can be added for a more stylized finish. Marigold cross-body bag adds a neutral color to bohemian spring-style outfits while you're out and about.
2 - Casual Boho Blouse an Epitome of Comfort
Embrace the revolt and keep your favorite bohemian blouse in your capsule wardrobe for the spring season. Get your color-pop ball rolling with our bohemian spring-style outfit casual boho blouse to add a dash of boldness and femininity to your style. Team it with old denim or wide-leg cotton pants to create a head-turning look.
Go for bohemian style beaded long drop tassel earrings and a straw crossbody bag to add some fun. For an easy-to-go look, wear a strappy flat leather sandal.
3 - Cool Fair with Mini Boho Skirt
As the season changes, it's time to rethink your everyday look with a much-needed boho-inspired mini skirt. Embrace our A-Line boho high waist mini skirt with a crochet crop top for an instant dose of cool spring breeze. Add a wicker crossbody bag with bamboo closure for travel adventures, and beach trips.
Feel cool and comfortable with T-strap flip-flops that take you from sand to sunset cocktails. Opt for boho shell hoop earrings with the ensemble to catch eyes everywhere.
4 - Delight Your Soul in a White Maxi Dress
Spring is around the corner! It's time for some long white maxi dress, a perfect transition piece that allows some airflow with a flowy hem. On longer days and among blooming buds, wear our white bohemian dresses that's both chic and super fun to twirl in.
Pair it with Boho earrings and strappy jelly sandals with diamante. Add a dreamy vibe to your bohemian spring-style outfit with a leather tote bag for a high-end finish look.
5 - Exude a Carefree Boho Look in Vintage Jacket
Add some depth to your ensemble and look fab with a vintage bohemian jacket perfect for a chilly spring evening. Glam up your everyday look with our embroidered boho jacket and treat yourself to the stunning embroidery patchwork. Amp up your look with gold hoop earrings.
Pair it over a tee and denim and wear bohemian-inspired art flower patterned canvas shoes. You can also wear a balloon umbrella cap for a complete springtime look.
6 - Eye-Catching Beaded Fringe Jacket
Add a dash of edginess to your spring style with an unmistakable fringed bohemian jacket. Layer it up with our exclusive black boho denim jacket that is perfect for any beautiful spring day out. Add a pair of bohemian macramé hoop earrings and black glasses to accentuate the look.
Wear sexy black ripped denim pants and chunky heel plain sandals to get the spotlight you deserve. Accessorise with a sweet black whipstitch bag, ideal for wearing every day.
7 - Festival-Inspired Boho Maxi Dress
Rock the festive flowery and flowy boho maxi dress at any springtime occasion, be it going out with gals, or breakfast with the family. Super easy to style, our pink boho maxi dress is a sweet and sexy bohemian princess-seamed bodice with ankle length that is sure to turn heads.
A boho maxi dress and a brown leather belt are good combos for a casual repertoire. For an ultimate style statement, carry a ruffle crochet bucket bag with brown hues and slip on a pair of comfy terracotta blowfish sandals with an espadrille wrapped outsole. Add some depth to your boho style with fringed necklace and stone stud earrings.
8 - Flower Field Inspired Boho Maxi Dress
The bohemian maxi dresses are the perfect way to make an OTT impression. With dreamy free flowing tailoring and vibrant floral patterns, these flowy garments will secure your moment in the spotlight with ease! Sexy and stylish, our floral boho maxi dress with Lantern sleeves and cut-out design is our springtime favorite. A multi-layered chain pendant necklace would be a great add-on to your boho spring-style outfits.
Heels are the perfect addition to any outfit, but when you want something with an edge there's no better choice than Boho-inspired quilted sandals. The straps wrap around the foot, making them adjustable enough that you can wear this style with any number of different outfits!
9 - Free and Flowy Red Boho Skirt
Bohemian long skirts keep your body cool and breezy during the day and can carry you through your evening plans. Perfect for springtime dates, our timeless bohemian free-flowing red boho skirt screams energy.
For an instant dash of fun, wear a romantic white fitted crop top, and carry a Gingham canvas tote bag with a modern take on check prints. Pair it with hand-woven glass seed beads earrings for a sensual boho-chic feel. Complete the look with comfortable gladiator sandals with straps that add an extra dimension to your outfit.
10 - Get the Earthy Hue Boho Kimono Robe
Kimonos are just the perfect coverup for the spring season. A great layering essential with versatile options, our Boho Kimono Robe is a stunning piece of boho-chic clothing. For a cool and free-spirited vibe, add a typical gypsy-inspired choker to your outfit.
Slip into easy breezy sandals that hug your arches, and offer excellent support for a longer period. As for accessories, a bamboo handle tote bag is perfect to stroll with down the beach in style.
11 - Go For a Flirty Casual Boho Maxi Dress
Modern cuts and contemporary styles, bohemian maxi dresses are ruling the fashion world this year. If you aren't sure about how to dress boho chic in spring, our Casual Boho Maxi Dress with floor length, flowy silhouette, and subtle side slits, makes you feel sexy and fun.
Dress it up with a pair of luxury slide sandals with a squared toe and buttery leather finish. Instantly elevate your look with simple bohemian beaded earrings and a satin crystal mesh cross-body bag.
12 - Mesmerizing off the Shoulder Boho Blouse
Whether you're going on a vacation or out with friends this springtime, a comfy blouse is all that you need in your wardrobe. You can always turn to our Isla Off the Shoulder Boho Blouse for a playful vibe for any occasion paired with denim or a long boho skirt.
Feel free to add some rings, bracelets, and boho-inspired earrings to add some character. Uplift your attire with a simple turquoise sandal that adds a pop of color to your ensemble. Amp up the look with an optical woven tote bag that features a brown leather long strap.
13 - Oh So Neutral Polka Dot Boho Dress
Polka Dots are iconic fashion prints that have seen a new resurgence as a timeless favorite. Experiment with our Polka Dot Print Boho Mini Dress tailored for a signature look, with a modern and voluminous shape, perfect for springtime outings.
Glam up your polka dot dress with drop chain fresh pearl earrings and delicate chain. Accessorize your outfit with a camel fedora hat for a chic look. Rock your look with a small cross-body tan bag. Get a dreamy pair of effortlessly stylish Tan Leather Sandals to feel the boho vibes.
14 - Opt a Spring Constant Tiered Boho Dress
Whether it's a sleek sheath or layered maxi, tiered dresses are the ultimate in chic and modern. Put on our bountiful breezy Cute Boho Midi Dress with a seamless flounce and voluminous look. Pull off the look with vintage boho-chic teardrop glass earrings and a free-spirited vintage feather bracelet.
Add a pair of flashy flat sandals that bring out everything from your happy hours to evening dinners. Go for an elegant single-shoulder messenger bag to complete the look.
15 - Throw on a Graphic Boho Tee
Instantly refresh your spring look with versatile printed bohemian-inspired tees that are super comfy and modish. Slip into our classic Ellie Print Boho Tee that gives you some serious bohemian vibe and everything for a springy day.
Denim is a viable option to go with Boho tees that can be paired with low-cut sneakers for a fab look. Opt for a rust-colored bohemian vintage-inspired feminine metal pendant staple piece and complete the look with a hobo shoulder bag.
16 - Try a Different Boho Frill Trim Mini Dress
Nothing is quite as comfy and cute as our frill boho mini dress with long sleeves design and short length, perfect for all sorts of occasions. For a trendy twist, pair it with cream leather high-heel sandals and a mini leather sling bag. Add an instant boho vibe with tassel earrings.
Celebrate the Free-Spirited Style This Season
It's time to consider your Boho spring-style outfits to add a little bohemian vibe into your everyday wear. Twirl and dance this spring season with versatile boho-chic outfits that are easy to style and are a total staple.
Let a fresh bohemian breeze revamp your fashion sense this spring season with a signature piece of clothing for an extremely versatile look. Play it loud with geometric patterns, chunky boho sandals, or lightweight flowy skirts.
Explore your flirty side and reimagine the bohemian grace with incredible chic style ideas to wear a modern boho outfit in spring.